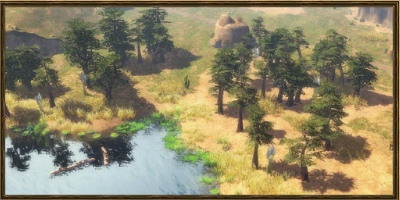 Texas is a map taken from Age of Empires III and is based on the U.S. state of Texas.
Description
Edit
Texas is an open plain with scattered low cliffs. Two Trade Routes, each with two Trading Post sites, cut through the center of the map, separating the teams. There will always be at least two Comanche settlements, and sometimes three. Expect attacks from every side.
Texas gets each player started off with both an early defense and offense, giving you two Outposta and Barracks. With an effective boom set up for you, you can get started without having to worry about spending wood on building your own. Lakes, trees, and cliffs all create choke points dividing the map, with Native settlements alternating between the center of the map, and on each side of the map near the colonies. Two Trade Routes are on each side, dividing the map into four divisions.
One of your goals should be gathering cows; do not underestimate them because they're herdables. Since they're able to fatten up to 500 food, you can get 2000 food with only 4 cows, at a speedy gather rate! Silver mines are somewhat plentiful, but they're far from your colony, forcing you to leave the safety of your Outposts. The trees are patchy, with actual forests being far from your start base. Herds of animals can be found close by, with the mighty buffalo providing 500 food.