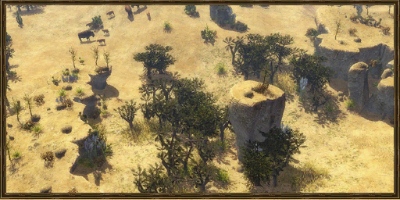 Sonora is a map which is based on the Sonora Desert.
Description
Edit
A twisting Trade Route winds its way through this barren, desolate region. Many cliffs and canyons create choke points. Resource can be difficult to find, though sometimes there are rich ore deposits in the center of the map. Search for Aztec and Maya villages on the edge of the map.
A desert with scattered cliffs and canyons that pose as interesting obstacles, allowing players to use them for defense. The cliffs around your colony form natural walls, but have plenty of openings that should be defended in some way. A turtler will find themselves starved from outside resources if they don't expand.
Players start out far from animal herds, but with forage bushes close by. Finding the herds as quick as possible would be a wise choice since forage bushes gather slowly compared to hunting. Mines and wood are both plentiful, but only outside of your starting colony. A giant opening in the center of the map that's surrounded by cliffs has many, many animals for hunting, but is more vulnerable to raids than other locations.