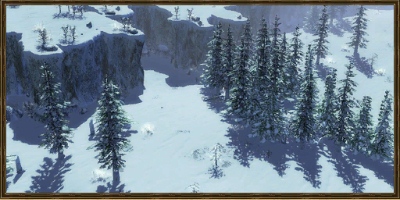 Rockies is a mountainuos map taken from Age of Empires III and is based on the Rockies Mountain range of North America.
Description
Edit
Your team oppupies one mountain range and your opponents the other. The victors will be the ones that can control the central valley and the choke points. Forests and Treasures are more heavily concentrated in the center of the map. The Lakota and Comanche have ventured up into the mountains, and may prove to be useful allies.
The Rockies are, as described by their name, rocky. Because of the cliffs acting as walls, defending players, there are normally only around four entrances that a player must protect. Taking the center of the map will provide you with an excellent attack point with plenty of resources, but letting the enemy take it will put you in a difficult position. The map has two Trade Routes going into the base of each team, and each have an easy-to-defend Native settlement.
The resources near your base run out quickly, forcing you to expand in order to find more food, wood, and coin. It will eventually bring you into the center of the map, the best place for more resources; securing it will give you a favorable advantage over your opponent.
Herdables: (none)
Herds: Pronghorn (400 food), Bighorn Sheep (400 food)
Tribes: Cheyenne, Comanche