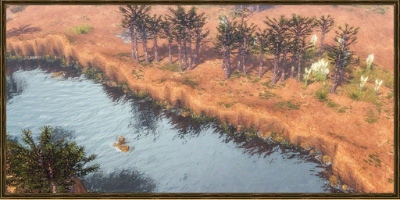 Pampas is a desert map taken from Age of Empires III.
Description
Edit
A long plain divided by the river with several crossing points. You and your allies are initially separated by the river, but the exact placement of your starting towns varies widely. There are always four Trading Post sites. Expect to fins a number of Inca and Tupi villages.
You'll notice that the sides of the map are straight, in contrast to most maps, which are round. There is a single Trade Route running near each player's base, with a pair of lakes creating choke points to the north and south, the largest being in the center of the map. Fighting for the center will give you the upper hand, but not paying attention to the large choke point on the bottom of a lake could cause chaos in your colony quickly.
Pay attention to the herdable Llamas and Rhea herds, which provide your main source of food. Trees are in scattered but plentiful patches, and a few mines can be found close to your location.
Herdables: Llamas (50/400 food)
Herds: Rhea (400 food)
Tribes: Inca, Tupi