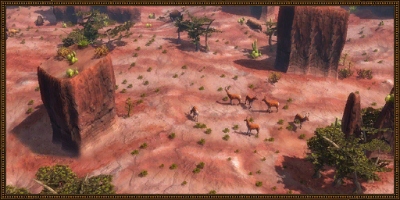 Painted Desert is desert map taken from Age of Empires III: The War Chief.
Description
Edit
Painted Desert is a lonely open range with scattered mesas and rich ore deposits. Hunting is plentiful, but Wood is a little scarcer. Lost cows can also be found wandering among the mesas. Four Apache and Navajo villages line the center of the map.
Open like Great Plains, Painted Desert has a unique terrain that is a mix of brown and red. It takes a minute to get used to but can be a nice change of scenery. 4 Native Settlements span across the middle of the map. Either Navajo or Apache occupy the middle two while the one that isn't in those slots takes up the outer two posts. Mesas and cliffs are abundant so some natural barriers can be used to your advantage when used correctly.
Wood is a scarce resource on the map. There are a few big groups of trees around the edge, but only some very small clusters in the middle and around your town center. Both Bison and deer can be herded and a few cows wander around for an extra food boost. Be aggresive and gain map control, because without it you will find yourself with running out of resources quickly.
According League of Big Bomb, the maps has been the most funny maps of all since its name and texture which is a mix of red and brown.