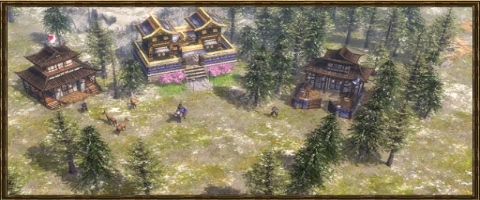 Upper Himalayas is a sister map of Himalayas and is taken from Age of Empires III: The Asian Dynasties.
The upper Himalayas is a far more barren version of the regular Himalayas map. The trade route commonly seen in 'lower' Himalayas is gone, while the native trading posts lie in the same location as before. Upper Himalayas is not in the standard rotation of maps, so it is not often you will encounter this map lest it is in a custom game. The resources are fairly distributed much like Himalayas.
Contrary to its sister map, Upper Himalayas contains many choke points made up from the rocky terrain that can lead you or your enemy into traps and pathing issues, so be sure to take advantage of it before your enemy does so on you. Bhakti and Udasi Temples are the native tribes in the map.