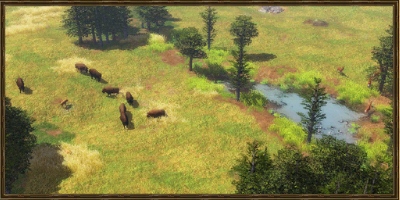 Great Plains is a grassy map taken from Age of Empires III.
Description
Edit
Wide open spaces, large herds of Bison to hunt, plentiful Mines, and as many as six Lakota and Comanche villages offer a wide variety of potential strategies. The Trade Route may have three or five Trading Post sites. Control the more dense forests near the edges of the map to supplement your late game wood gathering, or rely on the scattered clumps of trees out in the plains.
Every player and even the Trade Route is shoved off to the southeastern side of the map, creating large plains to the northwest with several Native settlements and much expansion room. Because of the map being open, there are pretty much no choke points. Pay attention to the Natives; they're your best friends on this map.
The landscape of the plains allows many herds of animals to wander the map, but only hosts scattered patches of wood, hardly sufficient for any growing empire. There are a few mines to gather from, but they run out quickly; the Natives only cost food and wood, so take this to your advantage. Because of the resources scattering the map, expect your opponent to send villagers out into the wilderness to find more coin or wood.
Natives: Lakota, Comanche