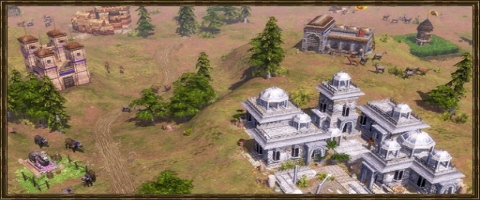 Deccan is a Asian map taken from Age of Empires III: The Asian Dynasties and is based on Indian Subcontinent.
Description
Edit
Players start on opposite sides of the central plateau that contains thick forests and abundant wildlife. Resources are plentiful, as mines, small herds, and sparse forests ring the surrounding lowlands. Your Home City has prepared well for this expedition, so your first Shipment will be available quickly. East India Company Trades Sites are situated at the age of the map. The plateau is not present in free-for-all games.
Deccan is shaped like an inverted doughnut, with a heightened middle plateau containing extra huntables, trees, and heavily guarded but powerful treasures. It is not uncommon to find an opponent's foreword base among the trees. Deccan is also a common Treaty map.
Deccan is a resource rich map that allows most civilizations to start with several extra food crates, significantly increasing the options available.Using the extra crates, one could perform an ultra-fast rush; one could also do a powerful Fast Fortress by taking advantage of the dual trade routes on the side of the map.
Herdables: Water Buffalo
Herds: Deer (400 food)
Tribes: Sufi, Bhakti