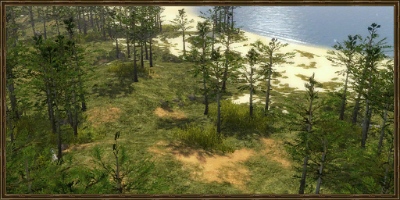 Carolina is a forest and coastal map taken from Age of Empires III.
Description
Edit
The southeast coast of North America has plenty of resources and extra Crates. For ease of naval transport and lack of cliffs means you are never too far from your enemy. A Trade Route runs along the coast with four sites for Trading Posts. This is the home of the Cherokee, who will always have two villages on the map. Sometimes you may encounter one or two Seminole villages as well.
Large forests of wood are somewhat distant from your starting position, and you'll find very little resources on the eastern portion of the map. On the western side, you'll find an abundance of resources. Taking control of the ocean can give you fishing and whaling opportunities.
Unique because of the abundant starting resources, Carolina will start the players close to the ocean, with the central Trade Route placing players on the eastern side of the map. This separates them from a few Native tribes and resources on the western side.