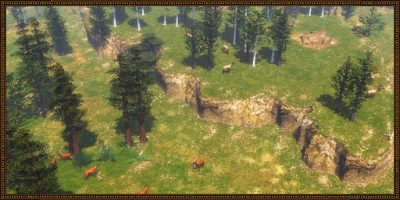 California is a map taken from Age of Empires III: The War Chief. It is based on U.S state California along with Baja California of Mexico.
Description
Edit
California is a beautiful area along the Pacific Ocean. Towering redwoods line the shore, giving way first to mountains, then to the Mojave Desert to the east. Two Native settlements of Klamath and/or Nootka are on opposite map sides, and there are always four Trading Post sites along the Trade Route.
With the Western part only water, you and your opponent are divided by a Trade Route but are resonably close. There are usually 4 Trading Posts for the taking and two Native Villages of Klamath and/or Nootka. You may find yourself having to trek around cliffs near the shore, but the western is much more open and turns into a desert.
Only California has you start off with multiple sheep around your Town Center , so making a Livestock Pen early or gathering them may help you with any strategy. Wood is abundant, but you may have to stray away from your Town Center for hunts. If you can gain control of the water and get at least some map control, you can be in much better shape than your opponent.