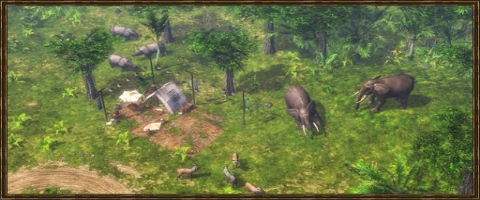 Borneo is an island in the Pacific Island. It is devided politically among Indonesia, Brunei and Malaysia. In the AOE 3 it is a map taken from Age of Empires III: The Asian Dynasties.
Description
Edit
With a rich coastal region and a bountiful interior, the island of Borneo promises endless opportunities for expansion and conflict. Each team has access to a Trade Route servicing the breadth of the island, where a wealth of Gold and Food may be discovered by those willing to brave the dense jungle. The waters around the island a visible at the start of the game, and are ripe for fishing.
On Borneo players start on the top and bottom of a circular island filled with trees and two trade routes. Secondary hunts can be far from your initial town center, and mines can feel a mile away. Each player will find themselves not too far out of their opponent's reach from the sea.
The Naval situation is much similar to Hispaniola, only the whales and fish are evenly dispersed about the water. A good strategy to surprise your opponent is to ship in warships and siege him from the sea. Conversely, you can use the ships to save your own villagers should your town center fall. Being unique to TAD maps, water treasures lie atop the waves awaiting rescue, should you have the powerful warships necessary to grab them.
Herdables: (none)
Herds: Serow (400 Food), Wild Elephant (1000 Food)
Native Tribes: Sufi, Jesuit