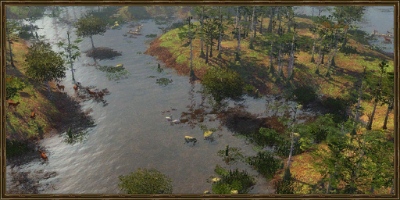 Bayou is a swampy map taken from Age of Empire III.
Description
Edit
A vast swamp where dry land is at a premium. You can only build on solid ground, but armies can travel across the wetlands, so beware of unexpected ambushes. Cherokee and Seminole villages occupy islands through the middle of the map.
Real Info
Edit
Bayous are commonly found in the Gulf Coast region of the southern United States, notably the Mississippi River region, with the state of Louisiana being famous for them. A bayou is frequently an anabranch or minor braid of a braided channel that is moving much more slowly than the mainstem, often becoming boggy and stagnant, though the vegetation varies by region. Many bayous are home to crawfish, certain species of shrimp, other shellfish, catfish, frogs, American alligators, and a myriad other species.
The word was first used by the English in Louisiana and is thought to originate from the Choctaw word bayuk, which means "small stream." The first settlements of Acadians in southern Louisiana were near Bayou Teche and other bayous, which led to a close association of the bayou with Cajun culture.
Bayou Country is most closely associated with Cajun and Creole cultural groups native to the Gulf Coast region generally stretching from Houston, Texas, to Mobile, Alabama, and picking back up in South Florida around The Everglades with its center in New Orleans, Louisiana.
An alternate spelling "buyou" has also been used, as in "Pine Buyou," used in a description by Congress in 1833 of Arkansas Territory.