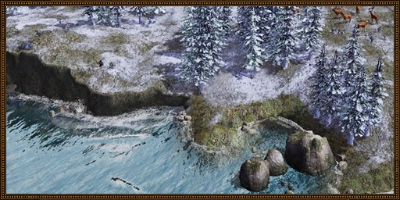 'Araucania' is a map taken from Age of Empires III: The War Chief.
Description
Edit
Araucania runs the length of South America's west coast and has plentiful hunting, fishing and whaling. The Mapuche and Inca inhabit this variable landscape of mineral-rich northern deserts, bountiful central grasslands and treasure-laden southern wastes.
Like Pampas, Araucania does not use the full circular map. Instead, it is shaped like a rectangle. With a river along the shore to the west, the amount of land is limited. With a long Trade Route consisting of 6 Trading Posts, a Trade Monopoly victory will be tough to complete and will need a large amount of map control. But, the Trading Posts can be used to your advantage for resources or XP for quick shipments.
Even though it seems smaller, the resources on this map are plentiful. Both fish and whales are available in the sea. On land, a herd of Guanaco lie near your Town Center with various herds of Guanaco or Deer among the land. Also, Berry Bushes are plentiful, so if you run out of hunts, you will always have a little extra food if you find it. Trees and treasures are always abundant as well as are copper mines. And, if you want some added military boost, grab a Mapuche or Incan settlment. This resource filled map could lead to some long games with many units from both sides.
Herdables: Llama (50/400 food)
Herds: Guanaco (400 food), Deer (400 food)
Native Tribes: Inca, Mapuche