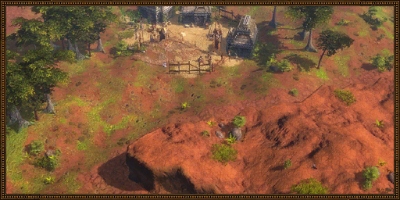 Andes is a map taken from Age of Empires III: War Chief
Description
Edit
Andes is a mountainous region with the warring factions starting dangerously close. A Trade Route with three Trading Post sites separates the teams. Four Inca settlements on the far side of the map. Allying with all the Natives is potentially powerful.
On the Western coast of South America, you and your ally find yourselves reasonably close on the southwest side of the map. A Trade Route divides the two of you with four Incan Trading Posts occupying the Northeast side of the map. Treasures are not abundant on this map, so get some while you can. Your opponent will start relatively close to you so prepare for an early attack.
Resources are plentiful. On each side their are numerous amounts of clusters of trees. Usually, there is 4 to 5 mines on each side of the trade route. Get as many llamas as you can because there are usually not too many. Also, both players start off with a large amount of Guanaco near their Town Center, with a few other herds around them. However, where the Native American Trade Posts are, there are no resources and a few mesas dividing the posts.